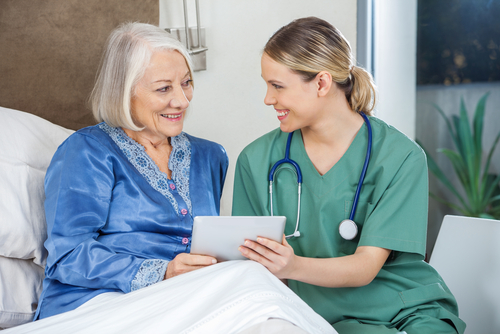 RiverSoft is the product of a design process that spans more than 20 years. It is designed to work for large agencies with thousands of patients, in multiple locations, with varied and ever-changing payer requirements (Medicare, Medicare Advantage, Medicaid, commercial insurances, HMO's, and self-pays). The software has been optimized to work for large populations of employees and patients. All information relevant to the job at hand is shown together, all at once, to save the user's time. This requires large displays - RiverSoft recommends 27-inch 1920 x 1080 displays for RiverSoft Office, which cost less than $160, and 12-inch tablets, which cost less than $400, for RiverSoft Mobile – Chromebooks work great at $223.
The scheduling system has been optimized to show as much information as possible at-a-glance so that a complex multi-payer schedule can be viewed and understood quickly.
The electronic medical record has been optimized to not only be highly configurable but to also ensure that the visit nurse can complete their note as quickly as possible while still ensuring high clinical quality. A typical visit note can be completed in less than three minutes. The completion of a note is subjected to an automated clinical quality check consisting of hundreds of checks. An internal clinical review process is built in and third party clinical analysis is easily accessible.
RiverSoft offers something that no other home care software company offers: Industrial strength software that is customized through configuration and software changes to meet the UNIQUE demands of LARGER home care agencies.
The most recent large RiverSoft customer began using RiverSoft in early 2017. They installed and trained 8 offices in Minnesota over a 4 -month period. During the first year we worked together closely in their day to day operations and delivered more than 200 software enhancements and features. Currently, this RiverSoft customer is caring for more than 2200 patients. Their nearly 300 nurses and therapist use RiverSoft Mobile and their 200 Aides, Companions, and Homemakers use ELVIS (our phone app). They create about 12,000 invoices/claims per month to over 50 distinct and demanding payers. With annual sales of just under $40 million and a DSO across all payers of 30.04, their operations are humming along smoothly.
RiverSoft evaluates each request for its ability to make the system faster and easier to use and for its potential to save user effort. Changes are normally done within days. All clients get a new release of the software each month. A monthly newsletter highlights the main changes, and a complete list of changes is available in the software's Release Notes feature.
When you partner with RiverSoft, you don't just get a software system to run your home care business - You get a partner in the software business to help you automate your unique business operations.